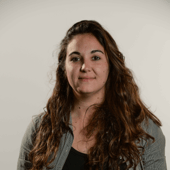 Elena Espeso
Data Analyst Manager – Data
Hello here! 
It's Elena, Manager in DataOps - Online&Social team, nice to see you around :) 
My story in Launchmetrics 🛣
starts in 2009 when I was student, a long long time ago! I was captivated by the way this company has to improve and to be up to date in this amazing tech world.
I joined the company as a Junior Data Analyst, working part time, and my task was to enrich the database and to do the maintenance also. After this I was Team Leader and I started attending the client's requests and coordinating the team's projects, till few years ago that I became Manager of the entire team in charge of to keep the databases in order to offer the best quality of the data to our clients.

Why Launchmetrics is home? ❤️
I have had the chance to grow up personal and professionally, I really enjoy my role in LM. I love the teamwork and the challenging work we do. The Data world is always changing and I appreciate to have the opportunity to expand my knowledge every year. Undoubtedly it's the place to be :)

Things that make me happy 😀
In my free time I love to spend time with my family and friends, and to do some outdoor activities like trekking and walks with my beautiful dog. I'm passionate about gastronomy and travels.